i-1 Linear RGBW 2 ft POI
Color Changing Linear Grazing
Info shortcuts
High-performance RGBW LED light source
DMX control with RDM 
IK09 Impact Resistance
C5 Corrosion Resistance
8.5º - 60º native conical beam angle with asymmetric and elliptical options
Dynamic LED drive for maximum power and efficiency in any color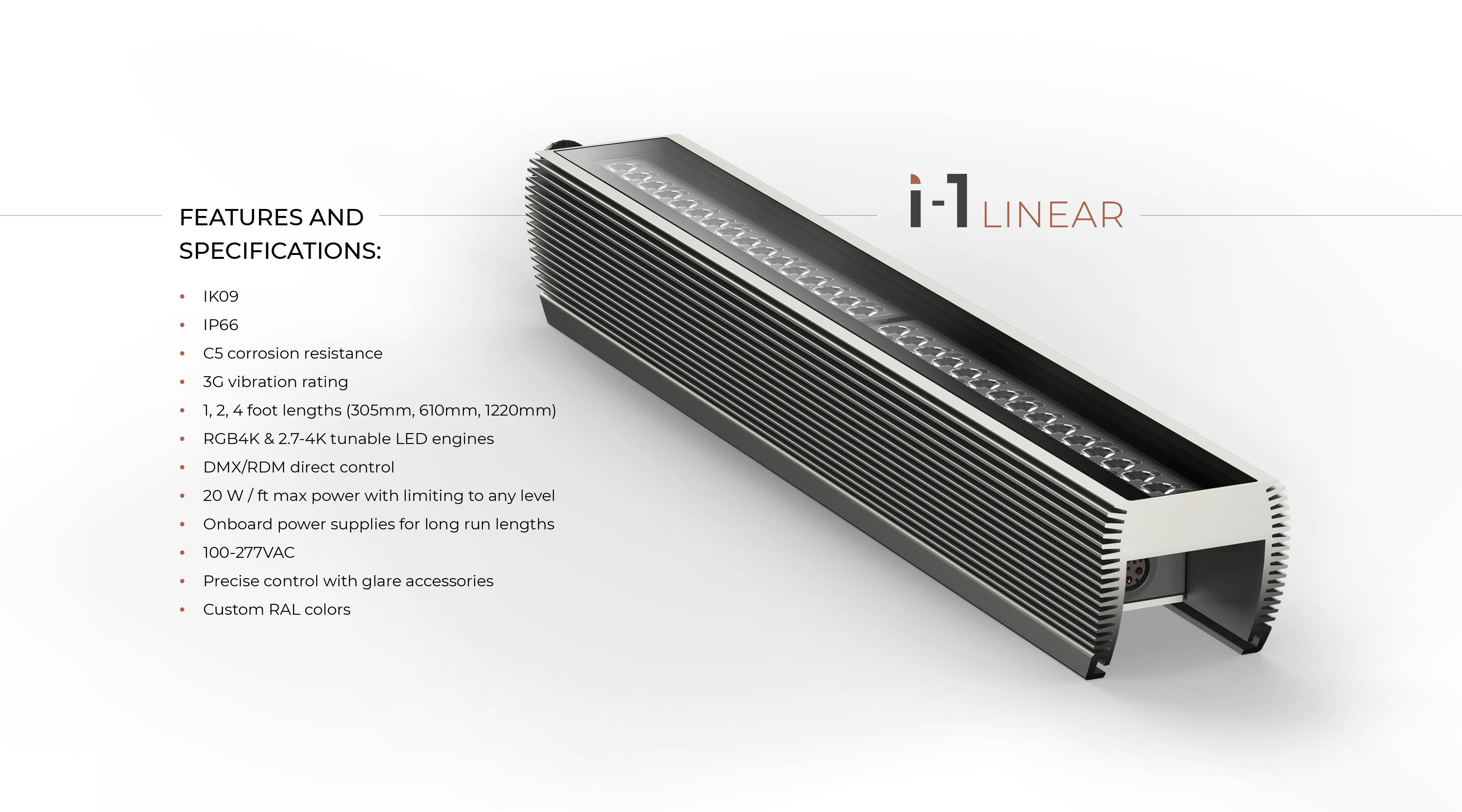 This thermal management techonology provides Advaced Temperature Control monitored via sensors and software, keeping optimal LED junction temperatures, and ensuring maximum reliability for long-term use. The ThermalDriveTM system includes cutting-edge heat removal via passive thermal tecniques and active forced-air cooling (depending on the product), specifically designed to maintain LED efficiency while extending fixture's lifetime.
SGM's TruColorTM luminaires use an enhanced color engine that improves accuracy and consistency both for color mixing and low-end dimming, while using the same procedures to match the SGM color palette.
SGM's integrated patented Dehumidification process eliminates humidity and breaks down corrosive molecules deriving from polluted air to avoid destructive corrosion. Inbuilt dehumidifiers constantly remove trapped hydrogen from inside of the lighting fixture in a solid estate electrolytic process with no moving parts. The DryTechTM procedure is also based on a Ingress Protection rating of 65 or 66 (depending on the fixture), intended as a full protection against dust and other particles, while ensuring protection against direct water jets.
DynaMix™ is a scalable drive design which brings an unprecedented level of output to all new SGM Light products. LED engines with DynaMix™ can utilize the full power capacity of a power source when using combinations of drive channels. What does this mean? Essentially a huge boost in output. Not only in single channels of color, but also in mixed colors.
The i-1 Linear and i-1 Linear X is a system of high-performance linear grazing and wash fixtures. By combining a wide range of fixture performance options with a revolutionary new dynamic drive engine, the i-1 is a game-changer for grazing and façade applications.
High Output through Engineering and Design
Capable of delivering over 1500 lumens per linear foot, the i-1 Linear and i-1 Linear X are some of the most powerful linear grazing solutions available. Utilizing the new DynaMix™ LED engine, the i-1 is the first in a new line of products which feature dynamic channel drive, which maximizes output in any color or mixed white.
Flexible Optics and Beam Shaping
With beam angle options ranging from 8.5 to 60 degrees conical as well as asymmetric and elliptical optics, the i-1 system is extremely flexible. Flare control with louvers and adjustable glare shields add to the i-1 system's ability to deliver light only where precisely where desired. This flexibility and precision allow for either continuous linear applications or for spaced, individual placement.
High Quality Whites, and Powerful Colors
SGM TruColor™ and DynaMix™ technologies are combined for the first time which results in the most powerful color mixes and black body whites possible. The i-1 incorporates the SGM color palette and is fully compatible with all SGM RGBW-based washes.
Legendary SGM Reliability
With an IP66 ingress rating, C5 corrosion resistance, 3G vibration, and IK09 impact ratings and integrated active dehumidifier, i-1 is one of the most durable fixtures available. Made in Denmark with premium automotive class components and extensive testing, the i-1 Linear system is made to last.
Dehumidification
The internal built-in dehumidifier protects this fixture from moisture, pollution and any other factors that can generate corrosion. The patented SGM dehumidification, not only removes humidity, but also prevents oxidation and condensation, while a gore-tex membrane equalizes internal pressure to prevent leaks.
Mounting Options
A complete selection of mounting options is available for surface, wall, or stand-alone mounting. Flexibility is provided through multiple adjustable wall mounts.
Optical Data
LED expected lifetime
50,000 hours
Lightsource
RGBW
Native lens options
8.5°
11°
29°
60°
12x39°
13x38° Asymmetric
Physical
Color options
Custom color - Any RAL
AluGrey
Corrosion class
C5 (ISO 12944:2018)
Effective Projected Area
0.52 Square ft
IK rating
IK09
IP class
IP66
Lens material
Tempered glass front
Material
Aluminium
Net dimensions L x H x W
610 x 81.2 x 87 mm
Net dimensions L x H x W (inches)
24 x 3.2 x 3.4 inches
Net weight
4.6 kg (10.1 lbs)
Features
Color calibration
SGM proprietary with Dynamic Drive
Dehumidifier
Head
Remote monitoring
Yes (Real Time)
Electrical
Electrical protection
Overload protection with automatic recover
Input voltage, absolute max. rating
100 - 305 VAC; 50 / 60 Hz
Input voltage, nominal
115 - 277 VAC; 50 / 60 Hz
Max inrush current 230VAC
50 A
Max power consumption
40 W
Power Supply Unit
Inbuilt IP 67 Auto-ranging electronic switch-mode
Standby power consumption
1 W
Programming and Control
16-bit control
Dimmer, Red, Green, Blue, White
Data distribution
SGM Power and Data Joiner
DMX channels
3, 4, 6, 8, 10
DMX modes
6
Protocol
USITT DMX512A
RDM ANSI E1.20
Setting and addressing
i-1 Configuration Tool
Connections
Data / Power input
Cable with 3+9 pin X-Lok connector IP68
Data / Power output
3+9 pin X-Lok connector IP68
Installation
Mounting point
Sliding extrusion clamp in any location
Orientation
Any
Thermal
Cooling
Passive
Humidity (max.)
98 %
Temperature range, operating
-40°C to 50°C
Temperature range, operating max
50 °C
Temperature range, operating min
-40 °C
Temperature range, start-up
-20°C to 50°C
Temperature range, storage
-40°C to 80°C
Thermal protection
Automatic overtemperature protection
Total heat dissipation, max power
136.5 BTU per hour
Total heat dissipation, standby
3.4 BTU per hour
Conforms To
CE - 2014/30/EU: EMC Directive
EN 55015
EN 61547
EN 61000-3-2
EN 61000-3-3
EN 55024
EN 55032
EN 55035
CE - 2014/35/EU: Low Voltage Directive
EN 60598-1
EN 62471
EN 60529
Download
Firmware

Software

DMX Charts

Illustrations

Photometrics

User Manual and Specifications
Certifications & classifications






Ordering information
| Product name | Item number |
| --- | --- |
| i-1 L, 2ft, RGBW, 8.5°, POI, AG | 80050507 |
| i-1 L, 2ft, RGBW, 11°, POI, AG | 80050501 |
| i-1 L, 2ft, RGBW, 10x33°, POI, AG | 80050516 |
| i-1 L, 2ft, RGBW, 10x60°, POI, AG | 80050519 |
| i-1 L, 2ft, RGBW, Asym, POI, AG | 80050522 |
| i-1 L, 2ft, RGBW, 29°, POI, AG | 80050510 |
| i-1 L, 2ft, RGBW, 60°, POI, AG | 80050513 |
| i-1 L, 2ft, RGBW, 8.5°, POI, BL | 80050543 |
| i-1 L, 2ft, RGBW, 11° POI, BL | 80050546 |
| i-1 L, 2ft, RGBW, 60°, POI, BL | 80050549 |
| i-1 L, 2ft, RGBW, 29°, POI, BL | 80050552 |
| i-1 L, 2ft, RGBW, 10x33°, POI, BL | 80050555 |
| i-1 L, 2ft, RGBW, 10x60°, POI, BL | 80050558 |
| i-1 L, 2ft, RGBW, Asym, POI, BL | 80050561 |
| i-1 L, 2ft, RGBW, 10x33°, POI, CU | 80050597 |
| i-1 L, 2ft, RGBW, 10x60°, POI, CU | 80050600 |
| i-1 L, 2ft, RGBW, Asym, POI, CU | 80050603 |
| i-1 L, 2ft, RGBW, 8.5°, POI, CU | 80050585 |
| i-1 L, 2ft, RGBW, 11° POI, CU | 80050588 |
| i-1 L, 2ft, RGBW, 29°, POI, CU | 80050591 |
| i-1 L, 2ft, RGBW, 60°, POI, CU | 80050594 |
| Accessories | Item number |
| --- | --- |
| SGM USB uploader cable, POI | 83062067 |
| i-1 Linear Adjustable Wall Mount Short | 83060502 |
| i-1 Linear Adjustable Wall Mount Long | 83060504 |
| i-1 L Adjustable Surface Mount | 83060505 |
| i-1 Linear Mounting Clamp | 83060506 |
| Anti-glare shield, i-1 Linear 2ft. | 83060507 |
| PDM - Power & Data Manager | 80070240 |
| POI Power and Data Extension Cable (1m) | 83062070 |
| POI Y-split Power Insertion Cable | 83062077 |
| POI Power and Data Extension Cables (5m) | 83062072 |
| POI Power and Data Leader Cable | 83062074 |
| POI Power and Data Leader Cables (2.5m) | 83062073 |