P-3 Vision
Info shortcuts
Incorporating a direct view LED pixel grid together with a top-quality illumination LED engine, the P-3 Vision® is a game-changer in entertainment lighting. With these two LED engines in one viewing plane, designerscan reproduce pixel content and provide illumination in ways never before possible. P-3 Vision is a new type of lighting solution and a building block for creating exciting lighting effects and video content in ways never seen before.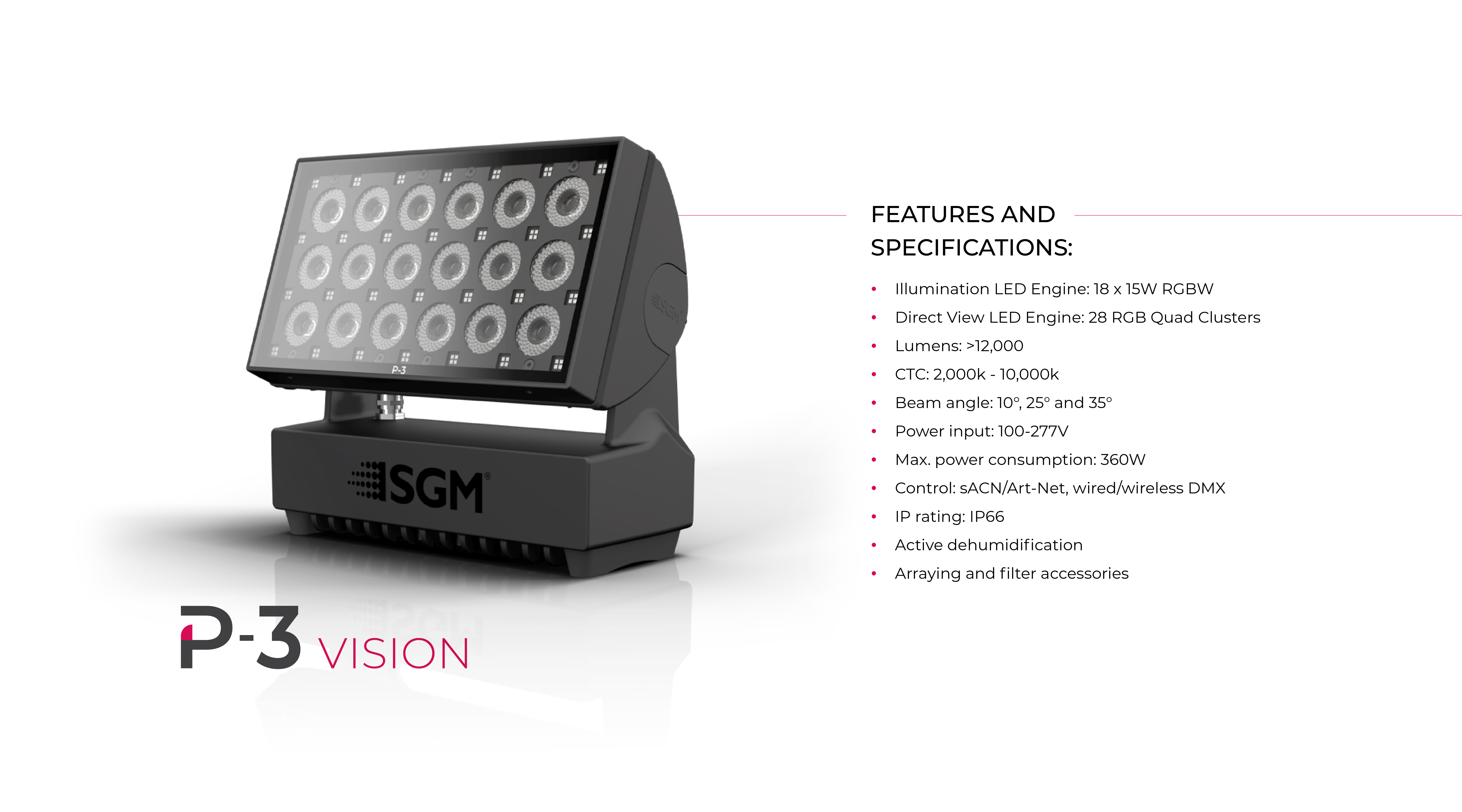 This thermal management techonology provides Advaced Temperature Control monitored via sensors and software, keeping optimal LED junction temperatures, and ensuring maximum reliability for long-term use. The ThermalDriveTM system includes cutting-edge heat removal via passive thermal tecniques and active forced-air cooling (depending on the product), specifically designed to maintain LED efficiency while extending fixture's lifetime.
SGM's TruColorTM luminaires use an enhanced color engine that improves accuracy and consistency both for color mixing and low-end dimming, while using the same procedures to match the SGM color palette.
SGM's integrated patented Dehumidification process eliminates humidity and breaks down corrosive molecules deriving from polluted air to avoid destructive corrosion. Inbuilt dehumidifiers constantly remove trapped hydrogen from inside of the lighting fixture in a solid estate electrolytic process with no moving parts. The DryTechTM procedure is also based on a Ingress Protection rating of 65 or 66 (depending on the fixture), intended as a full protection against dust and other particles, while ensuring protection against direct water jets.
DynaMix™ is a scalable drive design which brings an unprecedented level of output to all new SGM Light products. LED engines with DynaMix™ can utilize the full power capacity of a power source when using combinations of drive channels. What does this mean? Essentially a huge boost in output. Not only in single channels of color, but also in mixed colors.
When including this proprietary technology, the luminaire features two types of light source in the same reliable fixture, allowing independent operational capabilities in terms of control, output, beam angle, design, and energy consumption. All DualSourceTM fixtures are based on an optimized power management system that shares the same power supply for all sources, while delivering the maximum possible output in each light source when used independently.
Designer selectable algorithm for advanced color path control, allowing any mixed RGB value to hold a specific color point in the spectrum by modifying the color temperature data. Color filter emulation presets react to color temperature adjustments when this color path is selected. All products featuring the next-gen VersaPathTM color engine also include the standard SGM proprietary color mixing algorithm.
The P-3 Vision is the first fixture released in the new 3 series platform of SGM Light fixtures. This revolutionary family of fixtures introduces numerous features and performance improvements which makes it unique amongst fixtures in this size class. Incorporating a 42mm pitch LED matrix and a >12,700 lumen illumination LED engine on the same surface, this compact powerhouse can be arrayed in grids, used in LED screen borders, arranged in LED extensions, or used as stage outlines. All the while providing an extended canvas for video, and a punchy color strobe in one.
The VP pixels in the P-3 Vision are identical to the pixels in the SGM Light VPL series and can run on the same data network. This allows P-3 Vision and VPL to be mixed and matched to provide multiple options and incredible design flexibility. Hybrid control of multiple data streams gives the production team incredible flexibility to integrate video and lighting with cross-fade and inhibit style content management.
The new form factor is the result of SGM Light's latest developments in creating durable fixtures. With IK09 impact, 3G Vibration, and IP66 ratings, the P-3 Vision is an absolute tank of a fixture. Top quality UV and Corrosion resistance add to long term durability, a hallmark of SGM fixtures and an increasingly rare combination in entertainment lighting.
Optical Data
LED expected lifetime
50,000 hours
Lightsource
28 x RGB Clusters (112 total RGB LEDs)
18 x 15W RGBW LEDs
Pixel size
6 x 6 mm Quad LED Pixel Clusters
Photometric
Native beam angle(s)
10° (with 10° lens)
25° (with 25° lens)
35° (with 35° lens)
Preliminary light output all LEDs on
12700 lm
Physical
Color options
Black - RAL 9004
White - RAL 9010
Corrosion class
C5 (ISO 12944:2018)
IK rating
IK09
IP class
IP66
Lens material
Tempered glass front
Material
Aluminium
PC/ASA
Steel
Net dimensions
290 x 252 x 124 mm
Net dimensions inches
11.4 x 9.9 x 4.9 inches
Net weight
8.3 kg (18.3 lbs)
Features
Addressable pixels
28
Color calibration
SGM proprietary with Dynamic Drive
Dehumidifier
Base / Head
Remote monitoring
Yes (Real Time)
Tilt locking system
Locking system with angle indicator
View angle
110°
Electrical
Electrical protection
Overload protection with automatic recover
Input voltage, absolute max. rating
100 - 305 VAC; 50 / 60 Hz
Input voltage, nominal
115 - 277 VAC; 50 / 60 Hz
Max inrush current 230VAC
60 A
Max power consumption
360 W
Max power thru @ 100 V
16 A
Max power thru @ 230 V
14 A
Power factor
0.99 PF (230 V)
Power Supply Unit
High-efficiency electronic switch-mode
Standby power consumption
6 W
Programming and Control
Protocol
CRMX, W-DMX™ G2, W-DMX™ G3, W-DMX™ G4, W-DMX™ G4S
USITT DMX512A
RDM ANSI E1.20
ArtNet (up to 120 Hz)
sACN
SGM VP-Net
Connections
DMX data in/out
IP66 XLR 5-pin connector, Female
IP66 XLR 5-pin connector, Male
Ethernet Connections
IP66 RJ45 Locking Chassis Mount Connections
Power
Power input connector & link-thru
Installation
Mounting point
2 quarter-turn locking points for one Omega bracket
Orientation
Any
Safety features
Bottom mount for safety wire
Thermal
Total heat dissipation, max power
1228.3 BTU per hour
Total heat dissipation, standby
20.5 BTU per hour
Included items
Included items
1 Omega bracket with quarter-turn fasteners
Certifications & classifications