G·Wash
RGB LED Moving Head
Info shortcuts
High-power IP65 RGB Fresnel LED light source
Silent performance
13500 lumen and 9° to 73° zoom range
Optional rotating and indexable beam shaper
DMX, RDM, and wireless control
2000K - 10000K CTC control, no hotspots
Ultra-high-speed strobe effect
Flicker-free / Programmable scenes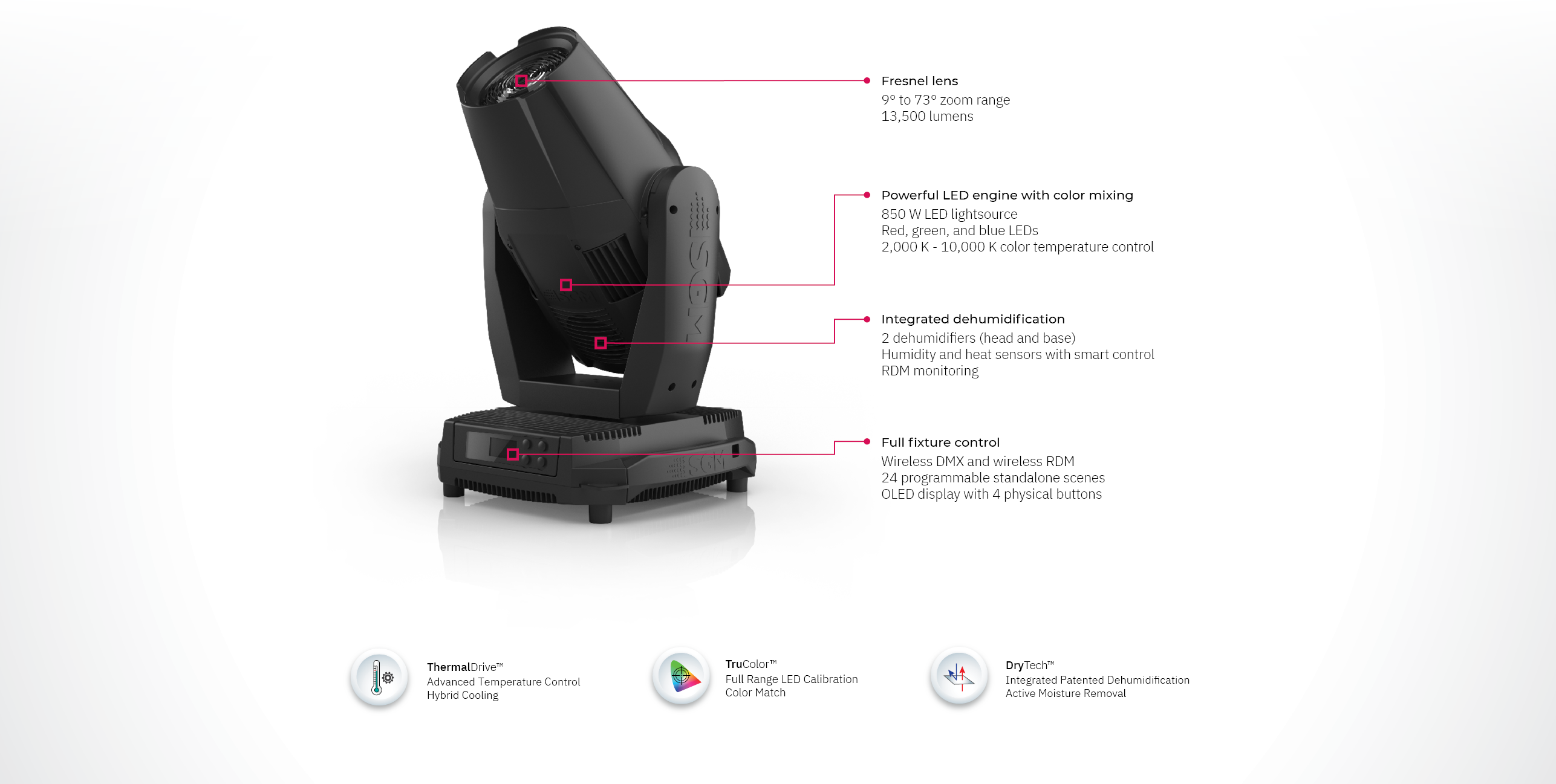 The G-Wash is a RGB LED moving head with an IP65-rating. With one of the widest zoom ranges ever seen in a Fresnel-based wash luminaire, the G-Wash is able to create extremely bright colors from long distances with noiseless operation and accurate beam distribution. The integrated dehumidifier of the G-Wash ensures perfect inner cleanness of the luminaire and no accumulation of dust or externally induced impact on internal optics, gobos, or the light source unit.
LED Technology
This tough and reliable LED luminaire includes a powerful W RGB LED engine capable of deep saturates and smooth color transitions. The G-Wash is capable of extensive color palettes, where warm, pale hues and bright color tones are combined with deep saturated blue, red, or magenta. It allows the user to generate powerful colors while controlling the beam precisely. The LEDs expected lifetime is 50,000 hours.

Colors
When it comes to colors, the G-Wash really makes a difference. The SGM color mix is applied in this wash moving head at its best, generating bright tones never seen before in a Fresnel luminaire. However, the G-Wash is also a great light source to create bright and versatile dynamic whites, as it comes with linear color temperature control from 2000K - 10000K. The G-Wash is designed to improve the colors of any wash based on discharge lamps.

Optics
With a 9° to 73°º zoom range, the G-Wash is ideal for any event. Being water, dirt, and sand proof, the internal optics are always clean ensuring maximum brightness from the light source. Worst case scenario, the front lens must merely be wiped off, which is a huge time and cost saver, effectively eliminating the need for cleaning.

Fresnel behavior
The G-Wash is a true Fresnel-based luminaire, and it delivers the same performance a user can expect from such a projector. Unlike other LED fresnel lights, the G-Wash uses a glass fresnel front lens and the physical size of the luminaire does not change while using the zoom feature. Like the traditional hand-made fresnel projectors, the G-Wash creates sharp defined shadows in flood position and diffuse silhouettes in spot position.

Optional beam shaper
For those users who want to extend their collection of effects, the G-Wash includes the option of a beam shaper. By adding this module, the G-Wash is able to build different shapes in the beam, which can be combined with other features like zoom and colors. The optional beam shaper can work both in indexed and rotating modes over DMX, allowing the user to cover a specific area or to play with movement.

IP rating
The durable IP65-rating of the G-Wash luminaire ensures that the fixture is kept free from externally induced particles and liquids on internal optics and light sources, such as smoke fluid, dust, dirt, airborne pollution, and humidity. Thereby, the need to clean optics or gobos is eliminated.

Dehumidification
The internal built-in dehumidifier protects this fixture from moisture, pollution and any other factors that can generate corrosion. The patented SGM dehumidification not only removes humidity but also prevents oxidation and condensation, while a gore-tex membrane equalizes internal pressure to prevent leaks. Learn more about dehumidification

Photometrics
The G-Wash delivers a staggering lumen output, not only in white, but also in color. It is able to achieve 3800 lumen in red, 3800 lumen in green, and 1400 lumen in blue. These high values convert the G-Wash into the perfect companion for medium-sized venues as well as for large-scale installations.

Thermal management
To achieve optimum performance of the LEDs at all times, this bright and accurate luminaire is optimized to manage heat impact through SGM's unique thermal management technology. The technology consists of a uniquely designed body and heat sink, which ensures optimal cooling of the LED chips. Additionally, the special aluminum alloy and surface treatment ensures maximum heat dispersion while the fan-assisted cooling ensures optimal performance at any time and under any conditions (such as variable temperatures, limited airflows, confined installation spaces, etc.).
Like all SGM LED products, the G-Wash consists of SGM's superior thermal management technology and tested under extreme hot and cold conditions, which ensures that the LEDs always operate within safe parameters. Learn more about SGM thermal management

Mounting options
The G-Wash can be rigged with the included easy-fit omega brackets with ¼ turn fasteners, using two of the four locking points. Installation time can be saved onsite as the fixture can be pre-rigged to HUD truss making the rig fly-ready when reaching the venue. Handles can be found in the base as well to help users mount the fixture.
Being fully RDM compatible, the G-Wash is ideal for installation in non-accessible locations. 
Included SGM technologies

ThermalDriveTM
This thermal management techonology provides Advaced Temperature Control monitored via sensors and software, keeping optimal LED junction temperatures, and ensuring maximum reliability for long-term use. The ThermalDriveTM system includes cutting-edge heat removal via passive thermal tecniques and active forced-air cooling (depending on the product), specifically designed to maintain LED efficiency while extending fixture's lifetime.

TruColorTM
SGM uses Full Range Calibration in all LED fixtures over CIE space and black body curve, measured via spectrometer and SGM Illumination Lab software. To provide the best user experience, SGM's Color Match procedure ensures accurate wavelength reproduction within the product range via colored LEDs, dichroic filters, or CMY mixing (depending on the product); all of them specified to match the SGM color palette.

DryTechTM
SGM's integrated patented Dehumidification process eliminates humidity and breaks down corrosive molecules deriving from polluted air to avoid destructive corrosion. Inbuilt dehumidifiers constantly remove trapped hydrogen from inside of the lighting fixture in a solid estate electrolytic process with no moving parts. The DryTechTM procedure is also based on a Ingress Protection rating of 65 or 66 (depending on the fixture), intended as a full protection against dust and other particles, while ensuring protection against direct water jets.
Optical Data
Fresnel lens diameter
200 mm
LED expected lifetime
50,000 hours
Lightsource
High-power RGB LED
Zoom
Motorized
Zoom range
9° to 73°
Photometric
Color temperature range
2000K - 10000K
Efficacy
19 lm/W
Light output all LEDs on
13500 lm
Light output blue
1400 lm
Light output green
3800 lm
Light output red
3800 lm
Lumen per kilogram
276 lm / Kg
Lux @ 10m
2593 lux
Physical
Color options
Black - RAL 9004
Custom color - Any RAL
White - RAL 9010
IP class
IP65
Lens material
Tempered glass front
Material
Aluminium
Plastic PA6.6
Steel
Net dimensions L x H x W
585 x 821 x 492 mm
Net dimensions L x H x W (inches)
23 x 32.3 x 19.4 inches
Net weight
49 kg (108 lbs)
Features
Beam shaper
Rotating and indexable
Color calibration
SGM proprietary, full color calibration
Dehumidifier
Base / Head
Dimming
Smooth fade in, gamma corrected curve
Other
LED frequency control over DMX
Pan
540°
Strobe
Ultra-high-speed strobe effects
Tilt
270°
Variable aperture
Intensity optimized / projection optimized
Electrical
Electrical protection
Overload protection
Input voltage, absolute max. rating
190 - 264 VAC; 50 / 60 Hz
Input voltage, nominal
208 - 240 VAC; 50 / 60 Hz
Main fuse
T12A - 250V
Max inrush current 230VAC
30 A
Max power consumption
1050 W
Power factor
0.99 PF (230 V)
Power Supply Unit
Auto-ranging electronic switch-mode
Standby power consumption
70 W
Programming and Control
16-bit control
Dimmer, colors, pan/tilt, zoom, beam shaper
Cabled DMX
5 pin XLR input/output
DMX channels
16 or 19
DMX modes
2
Protocol
USITT DMX512A
Wireless DMX (LumenRadio)
RDM ANSI E1.20
Setting and addressing
Control panel
OLED graphical display / 4 buttons
RDM ANSI E1.20
RFID
Standalone mode
Up to 24 programmable scenes
Wireless DMX
Lumen Radio with RDM
Connections
DMX data in/out
IP65 XLR 5-pin cable, 0,2 m (7.8 in)
Power
Power input connector
Installation
Mounting point
4 x 2 quarter-turn locking points
Orientation
Any
Rigging possibilities
Hanging (Omega Brackets included)
Safety features
2 attachment points for safety wire
Minimum distance to combustible materials: 0.3 meter (11 in).
Thermal
Cooling
Active, Forced Air, Temperature-regulated
Humidity (max.)
98 %
Temperature range, operating
-40°C to 50°C
Temperature range, operating max
50 °C
Temperature range, operating min
-40 °C
Temperature range, start-up
-20°C to 50°C
Temperature range, storage
-40°C to 80°C
Thermal protection
Automatic overtemperature protection
Total heat dissipation, max power
3582.6 BTU per hour
Total heat dissipation, standby
238.8 BTU per hour
Included items
Included items
2 Omega bracket with quater-turn fasteners
2 m IP66 power cable pigtail
Safety instructions and installation quick guide
Conforms To
CE - 2014/30/EU: EMC Directive
EN 55103-1
EN 55103-2
EN 61000-3-2
EN 61000-3-3
CE - 2014/35/EU: Low Voltage Directive
EN 60598-1
EN 60598-2-17
EN 62471
EN 60529
RoHS2 Directive
2011/65/EU
UL
UL Std. 1573
Certified To
CSA
CSA E60598-1, Ed: 2
CSA-E598-2-17-98, Ed: 1
Download
Firmware

Software

Certificate

DMX Charts

Illustrations

User Manual and Specifications
Certifications & classifications




Ordering information
| Accessories | Item number |
| --- | --- |
| Omega Bracket with 1/4-turn fasteners | 83060602 |
| Single Flight Case for G·Spot series | 82051508 |
| Power cable with IP connector | 07860275 |
| SGM USB uploader cable | 83062011 |
| Vacuum Test Kit | 83061136 |
| RDM Addressing Tool | |